Ever since I was a small boy I've dreamed of adventure; desiring to seek after something that seemed bigger than life. If you're like me, adventures with your children such as climbing Mount Everest or running the Bost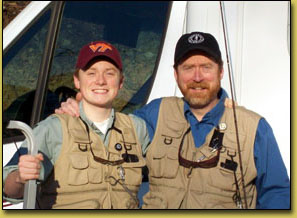 on Marathon seem a bit beyond reality. I'm just an average father looking at one summer left with my son; what could our adventure be? Realizing that with college on the horizon we see one last chance at a truly epic adventure together - to seize the moment. Where the fish story of all fish stories, between a father and son, can be lived out and told.
For many of us, fishing was the one true bond we had with our fathers, where we finally felt connected, where our father's legacy lives on. The romance of those days is a distant memory for most people.
We encourage you to rediscover your
desire for adventure and rekindle the most important things in life - your relationships.